Twitter Follow Me J!1.6
Last update: 19 July 2011
File size:

20.36 KB

Version: 1.6.2
Downloaded:

6772

Author: Mustaq Sheikh
License: GPL 2.0

This Twitter FollowMe module was inspired by the many Tweetme modules and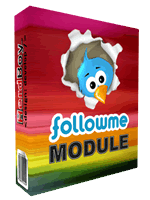 plugins for the more popular CMS out there. You are sure to catch your visitors attention with the Pagepeel effect icons. What makes Followme different is that its lightweight and valid Html and CSS. Keeping this in mind there are only two included images that can be selected in the parameters and you can upload your own image via FTP to overwrite the original images. You can easily control the positioning of the icons through the modules parameters and some css tweaks if necessary. I recommend publishing this module to your templates absolute module position ( How to add an absolute position if your template does not have one ). The bird icons used here were created by Gopal Raju of http://www.productivedreams.com
Vote
If you use Followme, please post a rating and a review at the Joomla Extensions Directory.
Installation Instructions
Go to your Joomla Administration area > Install/Uninstall and install the module just as you would any other Joomla module. Go to the Joomla Module manager and enable it to your templates " absolute " module position and make sure to select the menus you want it to display at and then finally Save.
Parameter settings
Have a look at the available options in the templates parameter settings below;
There are two images available in the package, so you can choose the left or the right aligned images depending on your page layout.The Position your choose ( left or right ) will determine if the left aligned or right aligned bird image is displayed.

You can FTP your own images to the modules images directory, just remember to keep the names the same as the original images..
You can adjust the position of the images by adjusting the padding to your liking if you wish to.
You can easily add your own Personalised Title / Hover for the image to easily translate the Title tag or insert a fun message. Do not forget to add your twittername in the twitter link url. Support is available on our Forums